It all started in 1918.  Martin Peterson was a custom thrasher who ended up paying his local poll taxes by pulling the county's road grader with his steam engine. This inspired him to get into the earthmoving and road building business.  In 1946 after WW2, twin brothers Dale and Gale Peterson took over their father's business. Peterson Brothers Construction started building county roads and stripping quarries in Northwest Iowa.  The brothers retired in 1976.
Unrelated Cordell Peterson and Cork Peterson met working with the elder twins on projects in Northwest Iowa.  Cork's father, Gale, and Cordell's future father-in-law, Dale, taught the pair of entrepreneurial-minded young men many things.  Gale and Dale demonstrated that hard work, integrity, and how you treat everyone you meet - especially those you work with - makes a huge difference in life and in success.  In fact, it has been said that in the 30 years the brothers were in business, no one ever witnessed the two raise their voices to the other, argue, or even have a cross word.   Their humble and wise conduct was worthy of emulation.
Cork attended Iowa State University and was the first graduate in heavy highway construction engineering.  Cordell studied business education at Buena Vista College in Storm Lake.  Cork went to Vietnam and led a port construction company building bridges, ports, and marine facilities for two years while Cordell taught school and did some drainage work in the summers.  After Cork's safe and successful tour of duty, the two started bidding and building jobs where they could.  A teaching job for Cordell took Cork and Cordell to Reinbeck - and Peterson Contractors Inc. was born.
In the 1960s, PCI began doing subcontractor work for Manatt's, Irving F. Jensen, Jackson Construction (now Cedar Valley Corp.), and many others.  PCI grew its experience and tools as it could afford.   PCI had many mentors and friends in the business that helped along the way.   PCI did jobs for farmers, small towns, counties, and Iowa Department of Transportation - and success led to growth.  In the 1970s, PCI designed, built, and operated several local landfills and continued to expand its fleet.
PCI survived the recession in the 1980s, and several other ups and downs but PCI was fortunate to have endured.  PCI continued to grow its fleet and expand the project portfolio.
In the 1990s, PCI began to tackle more difficult urban projects and performed work as an active Prime Contractor.  It expanded into mining and quarry excavation, as well as mass earth moving projects, and soon developed a specialization in on-road trucking of materials, crushing and material recycling.   PCI committed to fortifying its capabilities in its structures area and began to build bridges, box culverts, and other heavy structures.   This created interest and unique skills in specialty work like shoring, deep cofferdams, and other challenging excavations.
PCI's success and the development of these skills was integral to the decision to partner with Geopier®. in the late 1990s to introduce the geotechnical community to ground improvement.  PCI has been there from the beginning with Dr. Nat Fox.  What started as one simple aggregate pier system in 1997 has expanded into a suite of ground improvement solutions.  PCI has installed over 10,000 Geopier® projects throughout the United States and continues to apply its construction expertise to a wide range of ground improvement design-build solutions.
As PCI's expertise and experience has broadened, the company has expanded its geographical footprint.  PCI performs work across the United States and has offices in Council Bluffs, Iowa City, Cedar Rapids, Sioux City, and Des Moines.   Today, PCI serves its diverse customers through several divisions: Grading, Structures, Specialty, and Geotechnical Construction.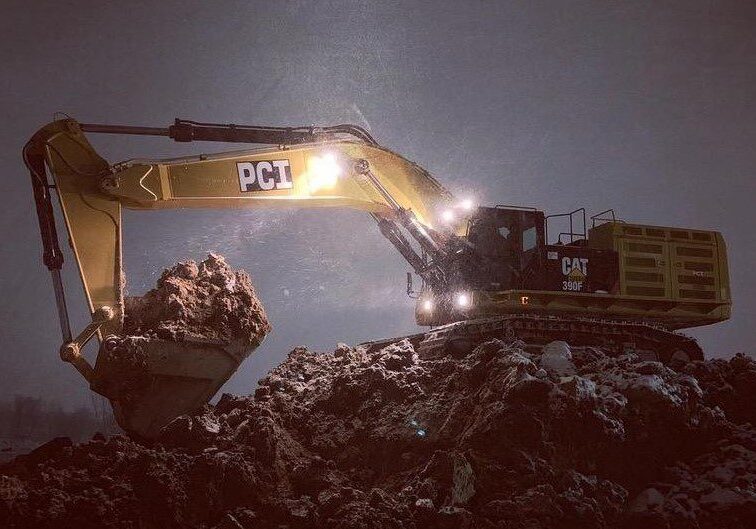 PCI has grown from its humble roots to a leader in the heavy and highway construction industry in the Midwest and one of the country's leaders in ground improvement throughout the US.  We are grateful for our many industry partners and friends that we work with and for every day.
Most importantly none of this would be possible without the best people in the business. Our people truly make the difference.
Our success is directly attributable to those who have partnered with our family to be a team that BUILDS.