THE LEGACY AT SPEER, Denver, CO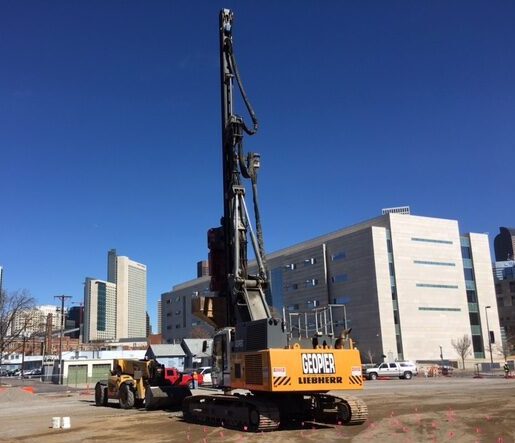 PROJECT CHALLENGES
Heavy mat loads
Undocumented fill, loose sand
 SOLUTION ADVANTAGES
Sitewide ground improvement
3,000 piers installed on schedule
RAMMED AGGREGATE PIERS, RIGID INCLUSIONS
The Legacy on Speer in Denver, Colorado is a seven-story multifamily housing building, with five levels of residential units above a parking garage podium. 
The subsurface conditions at the site generally consisted of undocumented fill to depths up to 12 ft, overlying loose silty sand and medium stiff silty clay over bedrock.  Groundwater was encountered at depths of 8 to 39 ft below the existing ground surface.
In partnership with Ground Improvement Engineering, PCI delivered a design-build ground improvement solution for support and settlement control of the building foundations and grade-supported slabs.  The design-build ground improvement solution consisted of a total of almost 3,000 Geopier Impact® Pier elements beneath lightly- to medium-loaded foundations and concrete rigid inclusions beneath heavily loaded mat foundations.  Rammed Aggregate Pier (RAP) elements were also installed to support the crane pad during construction. 
Two full-scale field load tests were performed to verify the in-situ behavior of the ground improvement elements in accordance with ASTM D1143.  The test elements both performed well when loaded to 150% of the design load.  The results confirm that the RAPs met and exceeded the design stiffness assumptions.  Approximately 0.4-inch or less top-of-pier deflection was measured at 100 percent of the maximum design stress on each test element.   Bottom telltales showed a negligible amount of deflection at design stress levels, indicating very low levels of stress were transferred to the bottom of the elements.